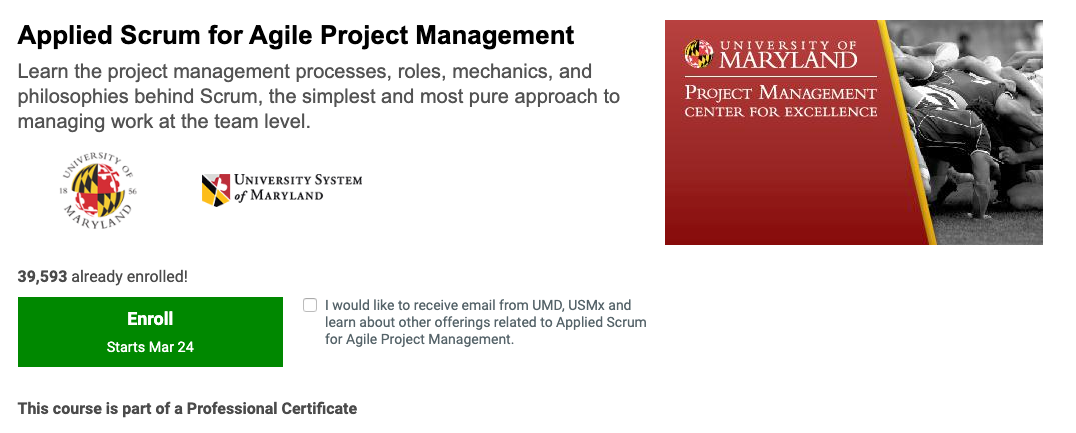 About this course
Version 2 of this course series delivers beyond the original agile certification. It includes updated content, better audit and verified learner experiences, and bonus videos on key topics.
Scrum and Agile are often considered synonymous, and there is a good reason. Scrum embodies the simplest and most pure approach to managing project work at the team level. Scrum is employed by over half of all Agile practitioners across all industries. While agile may have started in software development, many industries now use an agile methodology to deliver their work. The basis for agile, the agile manifesto, extends well beyond its origins in extreme programming and agile software development. Development teams around the world are now using kanban boards and assigning strong product owners to direct self-organizing teams to deliver on prioritized product backlogs. And nearly every new product has some sort of IT component and goes through an agile development lifecycle.
Today nearly 100% of IT organizations use Agile and many other industries are quickly following;


The likelihood of being on a Scrum or Scrum-like project is quickly approaching 50/50 or better over time.
While the Mastering Agile Professional Certificate program emphasizes principles at the heart of all Agile frameworks, in this course we start by learning the key project management processes, roles, mechanics, and philosophies behind Scrum. This will provide the basis for all understanding Agile in its purest form over four weeks exploring Why, Who, How, and finally What Scrum looks like applied in the real world. From understanding the agile team members, like scrum master and product owner, to the important differences in lean and agile processes.
While this course will not make you an agile certified practitioner (PMI-ACP), or certified scrum master (CSM), it offers a more fundamental agile certification based on agile principles and how scaled agile is applied in industry today. You'll finish this course more than ready to begin your agile journey, which we hope takes you to the next course in the series on "Sprint Planning for Faster Agile Team Delivery."
Upon successful completion of this course, learners can earn 10 Professional Development Unit (PDU) credits, which are recognized by the Project Management Institute (PMI). PDU credits are essential to those looking to maintain certification as a Project Management Professional (PMP).
What you'll learn
Why Agile is taking over: history, case studies, and proof Agile works better
Who uses Agile based on industry scale, stakeholders, and engineering
How to run a successful Scrum team for speed, innovation, leadership, and control
Scrum team makeup, user story writing, sprint planning, execution, and retro tools
What Scrum looks like at scale, its alternatives, and how to avoid pitfalls over time
Syllabus
Week 1: The first week starts with Why agile methods are used - based on case studies that prove its effectiveness and the history of getting to Scrum.
Week 2: The second week explores Who uses agile across industries, exploring the types of work management and how Scrum Agile fits into the world of work.
Week 3: The third week gets into the mechanics of Scrum and How Scrum is performed and executed. Here you'll learn team formation, planning and retro games, and how to effectively manage work to meet Sprint objectives.
Week 4: The last week pivots to look at what Scrum looks like at Scale, and how it differs from other Agile frameworksin terms ofscale, program and portfolio management, risk management, and pitfalls of Agile